Why a road trip is the best trip to take
A road trip allows you to explore and experience a destination, meet authentic people, and leave with unforgettable memories.
Few experiences are as liberating and enriching as hitting the road and going on a road trip. Whether traveling alone, as a couple, with your family, or with friends, embarking on a road trip offers many advantages. Here are a few reasons why you should consider a road trip for your next trip:
1. Visiting unfamiliar regions
One of the most exciting aspects of a road trip is the opportunity to discover new places and cultures. Sure, you could fly to a destination and spend your time in a crowded tourist area, but why not take the road less traveled and explored the hidden gems that lie off the beaten track? Or follow the directions of a local who can point you in the right direction at the tip of his finger?
On a road trip, you don't just skim the surface of a region like a tourist. On the contrary, you immerse yourself in the life and rhythm of the locals.
On a road trip, you can stop wherever you like. You can spend as much time as you want in a particular place. And it's by meeting new people and immersing yourself in a new region and culture that you get to know the destination and its people.
2. Road trips can be adapted to suit all styles of travelers.
When we think of road trips, we immediately think of crazy travelers who spend months in isolation in their vans. It's a cliché! But road trips come in all shapes and sizes:
You can drive around for a quiet, comfortable road trip, alternating nights in camping sites with more traditional accommodations such as hotels or rental apartments.
[Émilie and Cédric have chosen this on numerous road trips worldwide. A relatively comfortable road trip, perfect for learning about road trip life: that's how they spent 2 years crisscrossing the different regions of France.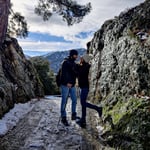 Les Avencurieux - Émilie & Cédric
A more adventurous road trip in a van! Depending on how long you want to spend in your van, you'll need to equip it more or less for comfort. Spending a few nights in your van or living in it for several weeks will require a different organization entirely!
Auréline and Arnaud are among the most adventurous. For example, they spent 2 and a half months in Norway aboard their converted van, exploring the most remote areas (and close to nature).
This trip to Norway was beautiful. We discovered so many different landscapes and wild animals. You get to know the place when you travel through a country for a long time. The same applies to a shorter, one-week road trip. The trick is not to want to do everything and go too fast. Instead, take the time to soak up the sights!
Gladys, her family, and their dog Maïton used to live in a van with their family! For example, they explored Europe in their converted VW bus to discover Spain and its Mediterranean coast.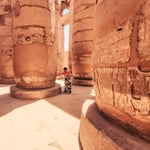 Clochette - Gladys
👉 Be careful, though; traveling on a road trip will require patience, and you'll need to enjoy driving before you consider taking to the roads (and have a license, of course).
I know that when I talk about my road trips and my hours in the car, listening to playlists, some friends don't see themselves doing it. And then, as most travelers do, you still have to alternate driving when you're going away with two people.
3. Incredible, unforgettable encounters
Another great thing about a road trip is how easy it is to meet new people and bond with the locals. When you're on the road, you're bound to meet a wide variety of people, from truckers and small business owners to fellow travelers.
You'll ask directions at the gas station checkout or wave to that stranger on the street corner. You'll even exchange recent discoveries and tips with other road trip travelers!
It's often on a spot where several vans can be parked that you meet new people. You can forge strong bonds with other travelers in a short time. You can also meet people who are very different from you, which is enriching and inspiring.
These encounters can be incredibly enriching and can even lead to lasting friendships. What's more, by staying in local accommodations and eating in restaurants alongside locals, you're supporting the local economy for the most authentic glimpse of this region.
4. Learn to be a minimalist
Setting off with your three giant suitcases is impossible, so you must rationalize what you take. Nevertheless, embarking on a road trip is a great way to learn minimalism and declutter your life.
Imagine yourself on the road, constantly on the move. You won't have much space to store your belongings. Otherwise, your vehicle will look messy! So you have to learn to live with less.
When packing for a trip, you quickly realize that you can't take everything you own, so you must be selective in what you bring. This is your chance to eliminate unnecessary possessions and concentrate on the things that matter. A road trip is more than just a trip; it's a real-life experience that will change you forever.
👉 Worried you don't know what's essential for your road trip? Our article What should you take on your road trip? is for you!
5. Learn to take your time
On a road trip, you don't run after the clock. And indeed, taking your time is one of the most essential advantages of a road trip. In addition, this travel mode allows you to immerse yourself in each adventure stage.
You can savor the journey and enjoy the moment when you're not tied to a strict schedule or pressed by other obligations. For example, by stopping in unexpected places, meeting people, and discovering new landscapes, you open yourself up to unforgettable experiences you wouldn't find otherwise.
👉 This is one of the advantages of road-tripping; this flexibility can't be found in other trips. This is the case for accommodation, as Mylène says:
Even if I sleep in accommodation or campsites during my road trips, it's only for one or two nights, and finding accommodation the day before or the same day is straightforward. You can adapt to your own pace and motivation, depending on the distance you've traveled and, above all, the weather.
This is particularly important in today's world, where we're constantly bombarded with stimuli and pushed to move frenetically. Yet, when you take your time, you can also connect with yourself. You can spend time alone, reflecting on your life and goals, and give yourself the space to blossom and grow. It's a rare opportunity in our busy, noisy world, but it's one you can seize when you embark on a road trip.
A road trip allows you to take your time and connect with your surroundings and yourself. It's a chance to live fully in the moment and create unforgettable memories.
👉 A road trip can make you want to stay on much longer. Our article 6 tips for successful teleworking on a road trip will help you extend your adventure on the road!
6. Get closer to the people you love
Finally, it's a great way to bond with the people you love. A road trip is also about forging bonds for life. Whether traveling as a couple, with friends or family, a road trip's closeness and shared experiences can bring you closer together. You'll get to know each other and create memories that will last a lifetime.
And if you're traveling alone, we're sure you'll meet many more wonderful people. Because in any case, a road trip is a journey that allows you to refocus, taking the time to talk and discover with people you already like or who will become close friends.
So many reasons will convince you to embark on an adventure and organize a road trip very soon! It's the best thing you can do. Whether you're looking for experience, personal development, or just a change of pace, this road trip will have something for everyone. So why not pack your bags and hit the road today? You won't regret it.
The Fleeps Community is an expert in this field! Here are a few of our travelers' experiences to inspire you on your first road trip.