These 6 tips will help you successfully work remotely on your road trip
It's a dream come true for most of you: imagine yourself on a road trip, discovering a great new region, and still being able to work.
If you plan on this adventure, we have tips to help you reconcile work and your desire to travel. So live the #digitalnomad life!
Combining remote working, telecommuting, and travel can be a fantastic experience, allowing you to live and work from anywhere in the world. However, balancing work demands with the desire to explore the destination you've just arrived in can also be challenging. Here are some tips to help you make the most of your telecommuting and travel experience, whether you're staying put or embarking on a road trip:
1. You need to plan enough road trip time
Because there's not much point if you have to chase time to make a success of your professional life and satisfy your need for discovery, suchUnfortunately, Such an experience is impossible in all your professional and personal situations. On the other hand, working remotely during a road trip is an incredible experience if you give yourself the time and means to live it fully, typical of the slow travel movement. And that's the best advice you can take:
Travel is not a race. Allow yourself enough time to visit what you want to see, plan your work schedule, and take a few breaks without being in a rush.
2. It's essential to plan and stay organized during your trip
One of the keys to successful remote work and travel is planning and organization. This can help you stay on track and ensure enough time for work and travel activities. Schedule specific times for work, breaks, and sightseeing to get started. You might also consider making a to-do list or using a productivity app to help you stay organized.
Depending on the weather forecast, we always planned one day of the week for sightseeing. So we gave ourselves 3 days of discovery against 4 days of work.
It's also important to specifically organize your life in your vehicle. There's nothing worse than having to search unsuccessfully for a place to settle down and finish the day's work! So plan parking spaces, and above all, make sure of the information you've found.
If you plan to book accommodation during your road trip, don't hesitate to stay there long enough to carry out your pro-life without chasing after visits and discoveries.
3. It's essential to set the proper limits
Setting limits on your work is essential, especially in a new place. This can mean setting specific times for work and breaks and creating a designated workspace. This can help you stay focused and avoid distractions.
It's also good to communicate your work schedule to the people you're traveling with so they know when you're unavailable. It's no fun for anyone to be disturbed during a video conference or not to see when you can be interrupted!
During their road trip in France, Émilie and Cédric kept to fairly standard working hours and gave their customers advance notice of their unavailability on the days they were scheduled to visit.
Putting in long working days for more time to visit is tempting, but we don't recommend it. Listen to your body and respect yourself ;-)
4. You need to be able to stay connected
You must have a reliable internet connection and the necessary tools and equipment to get the job done when working remotely. This may include a laptop, smartphone, and any other devices or software you need to get the job done. Make sure you have these items before you leave, and consider buying a local SIM card or portable WiFi device if you're traveling to a place with patchy internet coverage.
Suppose you have important deadlines that you absolutely must not miss. In that case, planning your itinerary in a place with a good network is possible, even in a coworking space.
If you're planning to book accommodation on your road trip, you should also check that the connection is good:
Before we booked the accommodation that would be our home base for our road trip, we always asked whether the connection was good. If it were (on rare occasions), we would use the data from our 4G mobile packages to share the link.
But staying connected means… electricity. So you need plenty of it! Audrey and Steve have some excellent advice for you, which they learned and experienced during their 8-month road trip in Spain:
We went to libraries in winter at least three times a week. We were sparing with the motorhome's battery, as there wasn't enough sunshine to recharge it. It also meant we could use their free WiFi, often with excellent speeds. It was also a way of getting into a weekly work routine, a bit like going to work in a new city every week! Moreover, we were made to feel very welcome and comfortable (heated rooms in winter and cool spaces in summer). We used the same routine in Australia: we highly recommend it to digital nomads with the time!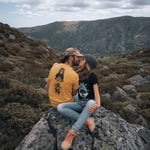 Les Manalas
5. You have to know how to take care of yourself
Getting caught up in work and sightseeing is easy when you're on the road, but taking care of your physical and mental health is important too. This can include exercising, eating well, relaxing, and unwinding. It's also a good idea to ensure you have access to health care in case you get sick or injured while traveling.
On a road trip, you must learn to take your time and not forget to leave time for a break: it's okay if you don't visit everything you planned!
This can also be done by taking advantage of breaks in accommodation such as a hotel or Airbnb. It's an opportunity to recharge your batteries and enjoy a restful, relaxing night so you can hit the road again over the next few days.
6. Before starting your road trip, there are a few essential things to check
It may seem obvious, but you must ensure your vehicle is reliable, in good condition, and suited to your chosen destination. You can have your car serviced before you start your road trip or rent one directly on-site. As mentioned above, you also need to plan your itinerary and, above all, know the places where you'll be spending the night.
It can also be helpful to plan the activities you'd like to do during your road trip a few days in advance so that you can organize your work and leisure time. In addition, it's a good idea to have a backup plan in case things don't go as planned, such as a map and the phone number of a tow truck on hand. Finally, be prepared for the unexpected by packing essentials like a first-aid kit, flashlight, water, and extra snacks.
👉 If you're unsure what's essential when going on a road trip, our article What to take on a road trip is for you.
By following these tips, you can have a successful and enjoyable remote working and travel experience, whether staying put or hitting the road.
The Fleeps Community is an expert in this field! Here are a few of our travelers' experiences to inspire your first road trip telecommuting experience.
Émilie and Cédric spent over a year and a half on the roads of France, visiting, discovering, and working remotely!

Our vision of the road trip is a little unusual: we crisscrossed France while allowing ourselves a certain level of comfort. We visited one region a month with our vehicle, staying in an Airbnb or gîte that served as our "base camp." This ensured a certain level of comfort and allowed us to establish a specific routine in our travels.